I want this please!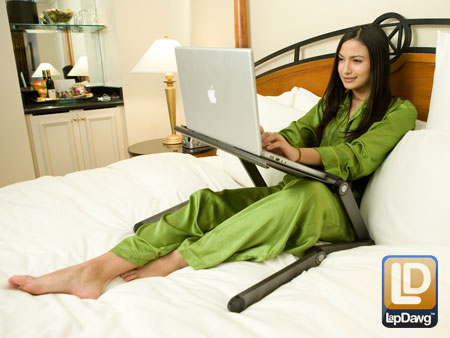 This is a review i found on it:
The LapDawg is a very versatile and efficient piece of hardware that truly cannot be labeled as just a laptop stand. The LapDawg can literally transform into so many different positions that it can be used as a TV tray, breakfast tray, book holder, laptop stand, and more. When I first received the product, I liked the fact that the box was a carrying case as well, so I could easily transport the LapDawg.
The LapDawg has limitless configurations because of its unique 360 degree movable joints. Simply just push in the button on each of the joints to adjust the legs. I was impressed by the sturdiness of the unit and how it was so easy to change the shape.
The LapDawg stand can hold up to 26 pounds and it weighs only 5.29lbs. The actual tray on the unit is 17.75"x12" and the entire LapDawg can stand about 20" from the ground at its highest setting.
Compared to many other laptop stands we have tested, the X4 is definitely one of the most well-constructed units that not only serves as a laptop stand, but has many other uses as well. If you are looking to get a sturdy, multi-functional laptop stand, we definitely recommend the LapDawg X4. The unit is strong, flexible, and definitely convenient to use in a variety of different situations.
Want to find out even more about it? Go
here
or click on the posting title.
FYI, I saw this in a contest (that I didn't win) but thought this was so great for so many people, both dis and able-bodied people alike. It has so many purposes. And i think it is better than the standard bed table because not only because it has so many positions, it will fold up thinly. Anyway, the company has not sent me one of these (i wish!) nor do they know I am doing this. I just was so excited about that I had to share!
If Santa brings me one, i will give you a first hand report. Meanwhile, think of all the people you know who can use this when stuck in bed or...